Getting back to business
Apps like Zoom, Skype and even Bandlab helped us through these difficult times and yes we had fun producing our quarantine videos but making live music is what we're living for.
What a joy to just rehearse and hear each other's sounds again, being able to communicate without looking at a screen at home.
Of course we'll play safe, comply to the 'corona' rules and do our utmost to stay up to date with the latest developments on this matter.
Postponed Premiere
Anass Habib & Amstel Quartet present: Stories of the Soul
"Stories of the Soul" - our program with Moroccan singer Anass Habib - has taken a quite remarkable course in these bizarre times: not only was it the first concert of the Amstel Quartet that had been cancelled when the general confinement started , it will also be one of the first ones that brings them back on stage again: on June 14th, Sunday afternoon, at the Meervaart in Amsterdam! Be quick and get your tickets here, as seating is very limited.
Moreover, as its premiere should have taken place on March 15th in Olivier's hometown in Luxembourg, the Literatour festival decided to stream the general rehearsal - that had been recorded in the Bethelkapel on March 12th in The Hague - during an online edition of their festival.
In the 20 / 21 season, "Stories of the Soul" will be reprogrammed in Luxembourg as well, exact date to be announced.
From Fairuz, 'the cedar of Lebanon', to the stirring music of Rabih Abou-Khalil, and from the Egyptian father figure Sayid Darwish to the best-known works of the 'Lady of Cairo', Oum Kalthoum ... "Stories of the Soul" is a wonderful exploration of the Arabic soul!
American Dream (Lite)
Amstel Quartet was finishing up the final mixing and editing on their new CD, American Dream, right when the Corona crisis began. Photo sessions and CD release concerts had to be postponed along with the production of the physical CD's, but we couldn't resist digitally releasing a few of the standout tracks as a preview for our fans.
Marc Mellits' moody 'Tapas V' and Christian Lauba's virtuosic, postmodern 'Mambo' will be released on streaming platforms as an EP. The full CD, with works by Lauba, Mellits, Cage, Creston, and Torke, will is planned later in 2020--stay tuned for updates!
WOKE
A concert to help the audience as well as the musicians to get used to live music after corona lockdown.
Let live music wake up your ears again for what you have been missing for too long; feel WOKE.
Works by David Lang, Marc Mellits, John Cage and Jürg Frey.
June 18 2020, Barthkapel, Brouwersgracht 2K, The Hague, 20:00h.
reservations: bas@amstelquartet.nl
ISH Composition Project
Amstel Quartet have once again undertaken a collaboration with students from the International School of the Hague. This year, the project spans several months and sees some of the school's most advanced students composing new saxophone quartet works for AQ.
On Friday, 29 May, AQ visited the school and workshopped draft versions of the pieces, giving the students compositional feedback and advising them how to make their pieces more idiomatic for the saxophone. The final presentation of the student pieces is planned for later this year.
Amstel TV
Like most creative people, we too have been expressing ourselves creatively through digital media. Rather naturally we started posting from the second day of our home captivity, and we were able to post videos of our musical activities on a regular basis.
Although we had a lot of fun making the videos, we are determined to dedicate ourselves to live performing again. That calls for an overview of past period of Amstel TV: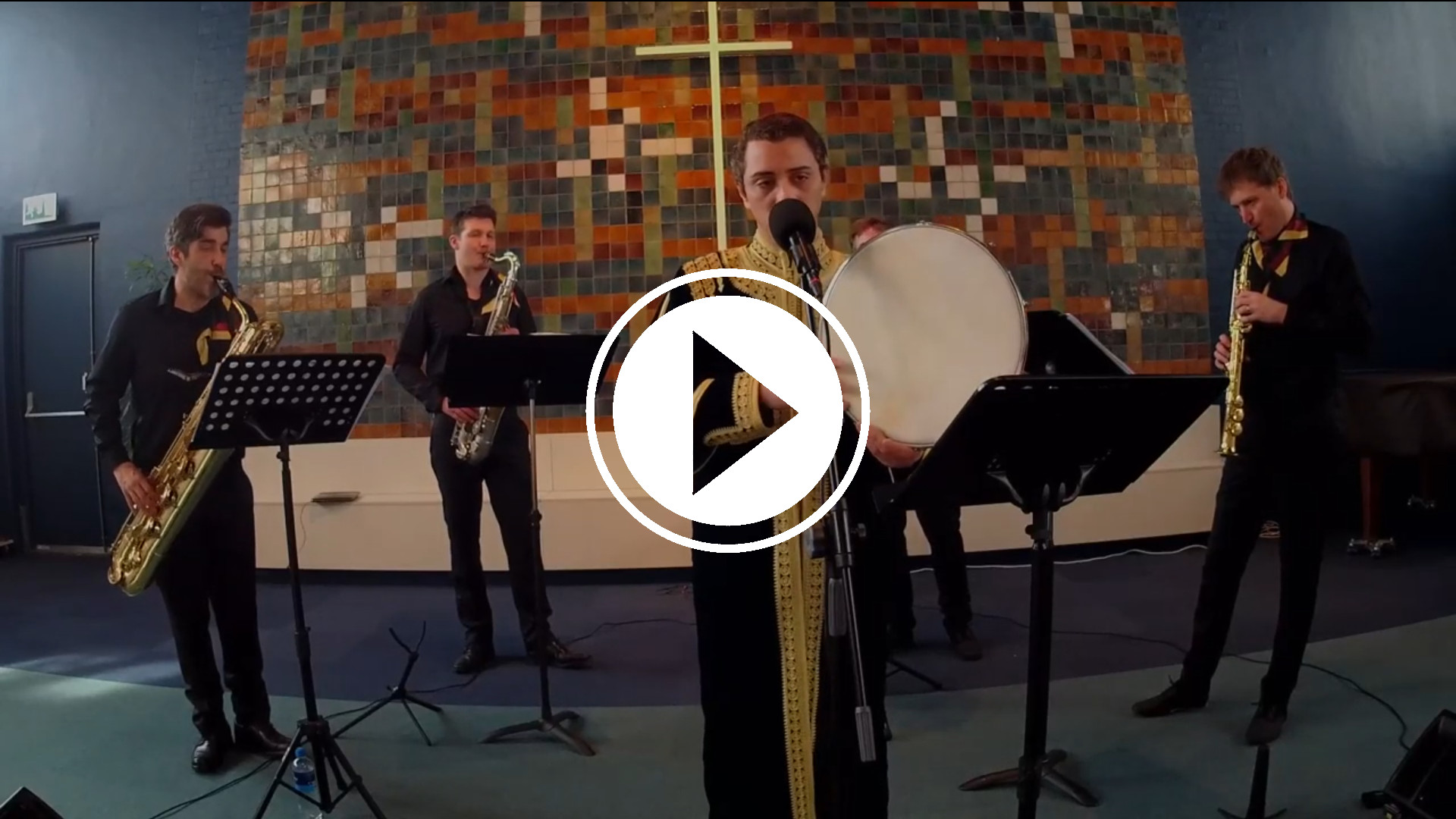 Stories of the Soul
March 15 2020
Stream of our first cancelled concert, broadcasted at the original concert time at March 15 2020
(recorded in the week before at the Bethelkapel The Hague)

Anass Habib singing, Amstel Quartet saxophones Together with Moroccan singer Anass Habib, Amstel Quartet delves into the world of Arabic music, full of emotion and poetry. From Fairuz, 'the cedar of Lebanon', to the stirring music of Mohammed Abdu, and from the Egyptian father figure Sayid Darwish to the best-known works of the 'Lady of Cairo', Um Kalthoum.
Steve Reich - My Name Is
March 29 2020
My Name Is (1967) performed by the members of the Amstel Quartet

Normally we realise this piece with the help of the audience: Upon entering the venue, people are asked to record their own name, and a selection those names will then be heard in the hall during the concert.
In this piece, Reich uses his "phase shifting" technique, in which sounds gradually shift over one another.
John Cage – FOUR5
April 10 2020

The music of John Cage, more than perhaps any other composer, embraces uncertainty. Every performance of Four5 is different, both because of the performance instructions, and also because of other 'real-world' sounds that may intrude.

This music allows the listener to journey deeper into themselves and to embrace all the external sounds, intrusions, and events that occur: to accept the things that happen without resistance, even when they are scary, boring, unsettling, or frustrating.
Laha badru tim - Mahmoud Sobh
April 27 2020

arr. Sylvia Maessen
Anass Habib & Amstel Quartet

A romantic love song: Love will always win!

Two people are sitting together and drinking wine, one says to the other: You are as beautiful as the full moon, sitting with you now is better than my entire life. You are tall and strong like a tree and your face is like the light of the morning. Sing for me, one with the most beautiful voice, when you sing the time is best and the space is filled with perfume, then give me the wine until I melt in your beauty and in your heaven.
Mensch Maschine - Spoek
May 6 2020

Kypski & Amstel Quartet

A tribute to Florian Schneider, co-founder of Kraftwerk, who died at the the age of 73

SPOEK was composed by Kypski, this Kraftwerk inspired version was made for our 'Mensch Maschine' show


Ashes in Birth [ from 'Todos los fuegos el fuego' ]
May 13 2020

Composer & Conductor - Maxim Shalygin
Performers - Amstel Quartet & Keuris Quartet

Duo van Obrecht
May 14 2020

Harry Cherrin, Bas Apswoude -tenor saxophone

safely trying to get playing together again, with the two of us.
MAMBO - Christian LAUBA
May 16 2020

a "practicing of' video

Christian Lauba 's 'Mambo' starts off as a traditional piece in this Latin style, but avant garde elements (multiphonics, meter changes, slap tongue, subtone) creep in slowly and gradually take over as the piece progresses.

The piece's last few pages (1:30-2:30) combines these two musical worlds to create a joyful finale. Like all of Christian Lauba's music, it demands of the saxophonists a mastery of extended techniques, convincing understanding of pop playing styles, and above all else: hours and hours of practice!
It's Amstel time! (not the beer)
June 10 2020

We're ready to play!

P.S. Some people are confused about our name. It reminds them of beer..
We don't know why, we're named after the river Amstel!
Dates